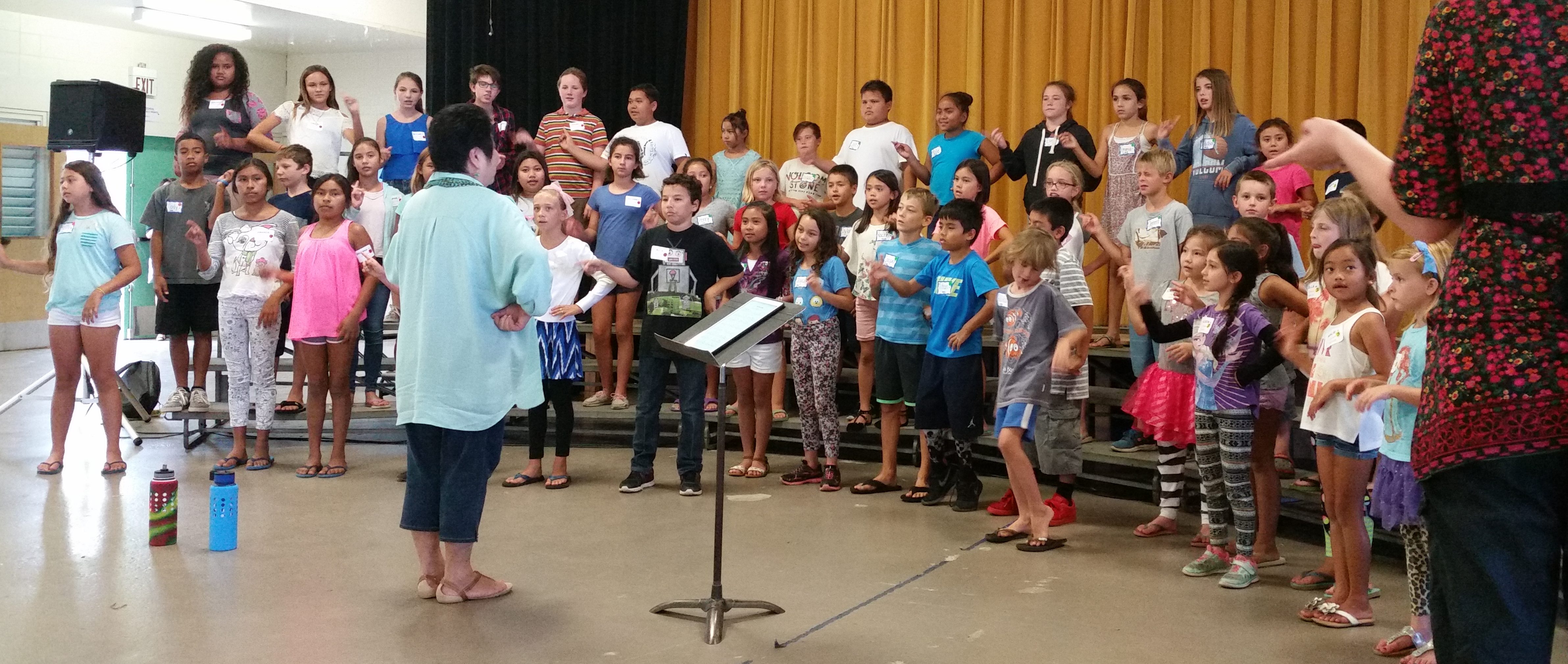 This past spring break the Kona Choral Society's youth and children's chorus program held their 2nd ever SPARK! Music Camp for children grades K-8. The free three-day camp was held from 8am to 12 pm each day at Kealakehe Intermediate School. The 64 child participants represented twelve different local schools: Kealakehe, Konawaena, KPPCS, Innovations, Holualoa, Kahakai, Makualani, WHEA, HTA, Kanu O Ka'aina, Hookena and Waikoloa.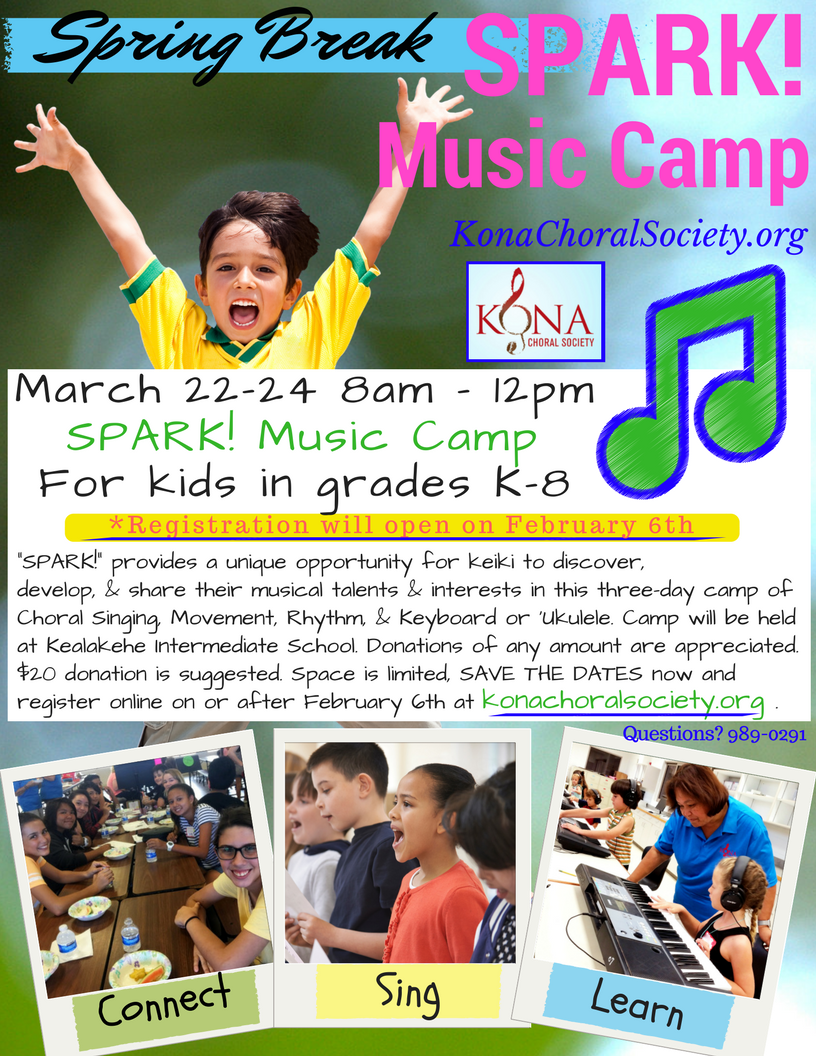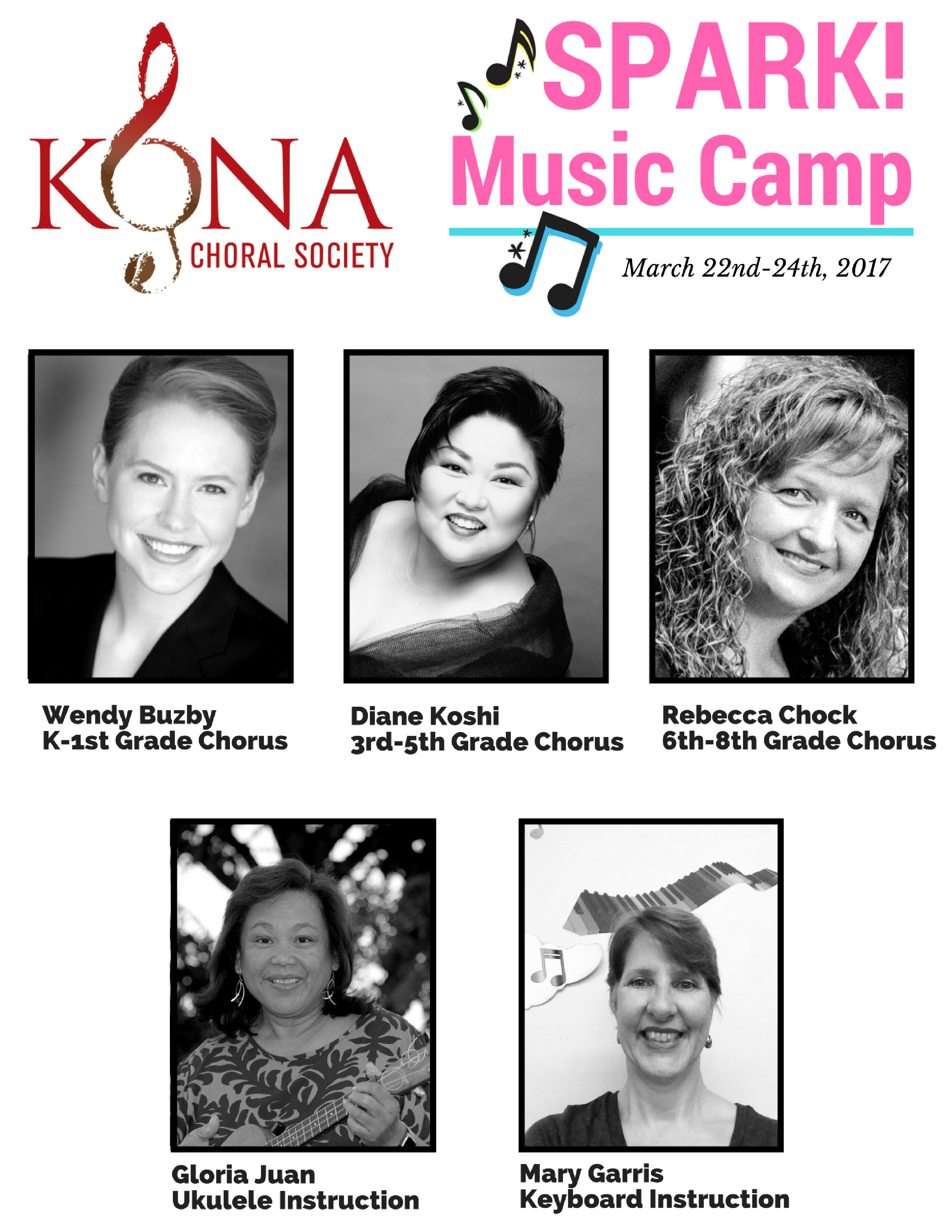 The camp's musical experiences included 'ukulele and keyboard classes, choral instruction, a demonstration by the Kamuela Philharmonic Orchestra, singer show-and-tell concerts by singers from around our community, and an end of the camp Hō'ike ("sharing") concert for parents.
SPARK! had five very talented instructors: Wendy Buzby of Kailua Kona led the "The Little Sparks" (K – 2nd graders), Diane Koshi from Oahu led the "Green-Flash Kids" (3rd-5th graders), and Rebecca Chock from Oahu led the "Lightning Leaguers" (5th-8th graders). Kealakehe Intermediate School chorus, piano keyboard, and 'ukulele teacher and KCS accompanist, Gloria Juan, taught keyboard and 'ukulele classes. And Mary Garris, owner of Junior Music Academy here in Kona, also taught keyboard classes. With their combined efforts and the efforts of guest musicians, camp counselors, committee members & other camp staff volunteers the program was again a huge success for parents, community members, and the kids!
Barbara Janes, a long-time member of KCS and supporter of the youth chorus, who also volunteered at spark and helped with the planning had this to say about the camp:
"SPARK – a real '

shot

in the

arm' 

to ignite the creative spirit and love of music  in all generations right here in Kona!  … For three  unique mornings of this spring break, SPARK  resounded with rhythm, sound, and joy, culminating in all students joining together in song at an amazing presentation for parents and community during the closing on Friday! It seemed like the seed for what's to come! … MAHALO to all of you who created an unforgettable experience for us all!"
Planning is underway for the re-opening of our weekly children's and youth chorus program for the upcoming school-year and for future SPARK! camps. If you are interested in getting involved or have any questions you may email kcsyouthchorus@gmail.com.
Please enjoy these pictures from SPARK! Music Camp March 2017: