Annual "Joy to the World" Community Concert
Narrative:
'Tis the season to sing! Come as you are and help us celebrate the season in song! The annual "Joy to the World" concert will feature the KCS Adult and Youth Choruses and the Kona Brass Quintet. This FREE event will take place on Sunday, December 2, 2018, 4:00 PM at the Maka'eo Pavilion at the Old Kona Airport State Recreation Area. The performance will not only include traditional Christmas carols, but music from around the globe including songs from the Krao Tribe of Brazil, a Native American text attributed to Chief Seattle, "Christmas Time is Here" from A Charlie Brown Christmas, and works by Dan Forrest, Eric Whitacre, and Amy Grant. To top it off, the audience will also get to join in and sing along to a few familiar holiday tunes! Bring the entire family and enjoy this free community holiday event (donations appreciated). For more information, contact us at KonaChoralSociety@gmail.com.
Details:
Who: Kona Choral Society & Kona Brass Quintet; Susan McCreary Duprey, Artistic Director
What: "Joy to the World" – Kona Choral Society's annual FREE holiday concert for the community
When: Sunday, December 2, 2018, 4:00pm
Where: Old Kona Airport State Recreation Area, Maka'eo Pavilion
Tickets: This concert is free and no tickets are required (donations appreciated)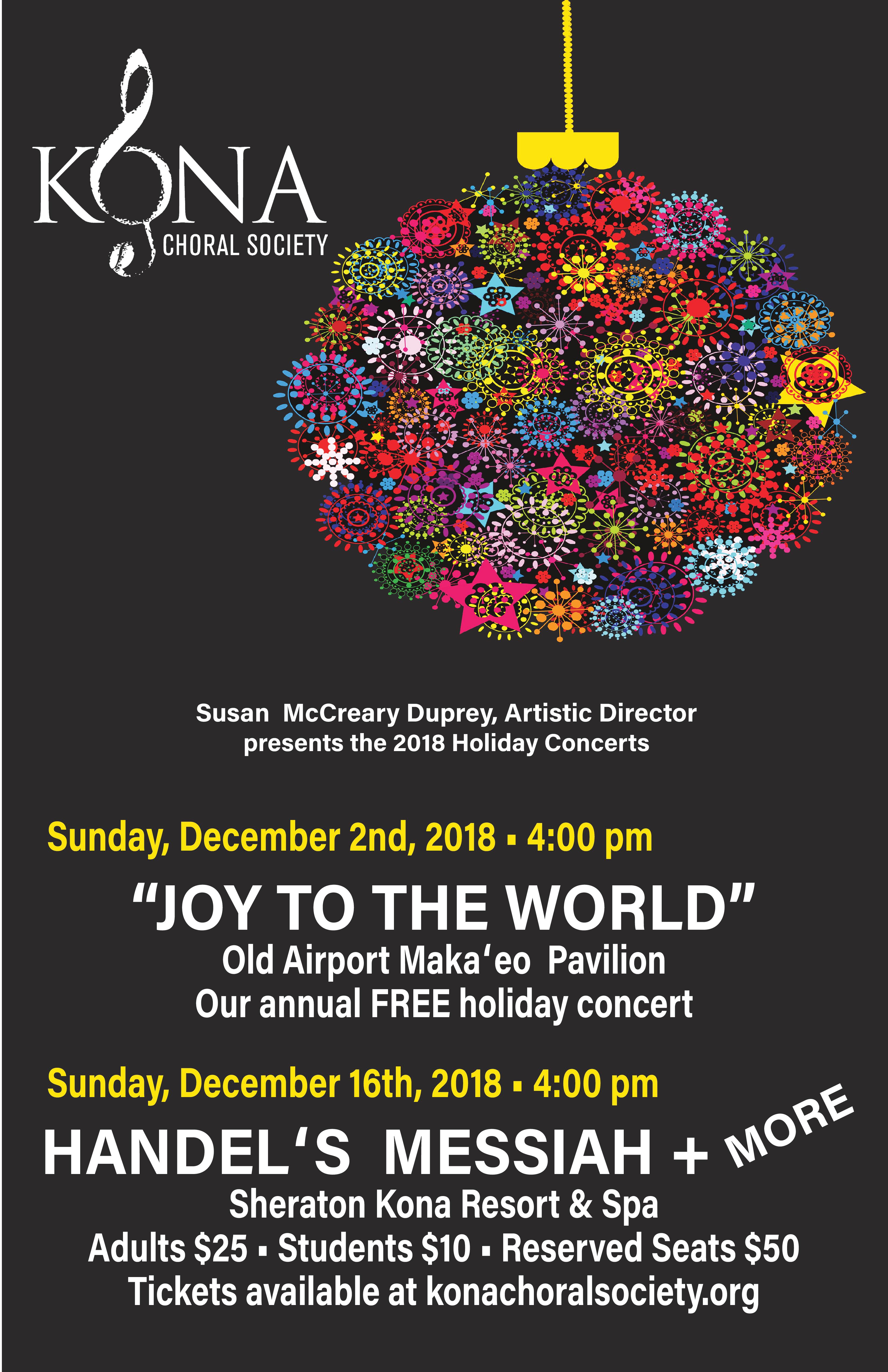 CONTACT: Susan Leonard konachoralsociety@gmail.com
♬♯♮♭♫♩♬♫♯♮♭♩♬♫♬♯♮♭♫♩♬♫♯♮♭♩♬♫♬♯♮♭♫♩♬♫♯♮♭♩♬♫♬♯♮♭♫♩♬♫♯♮♭♩♬♫♬♯♮♭♫♩♬♫♯♮♭♩♬♫

WHO WE ARE – The Kona Choral Society is that rare blend of accomplished musicians and enthusiastic novices who make choral treasures come to life! Led by our accomplished and inspirational director, Susan McCreary Duprey, we produce memorable performances of such masterworks as Beethoven's "Ode to Joy" from his 9th Symphony, Ramírez's Misa Criolla, Brahms' Requiem, Handel's Messiah, and Mozart's Requiem. We also perform music from different genres; including African, Asian, Latin American, Polynesian, American Folk, Black Gospel, Spirituals, as well as traditional Hawaiian choral music. Started in 1990, we are now over 100 singers strong.