Kona Choral Society and Artistic Director Susan McCreary Duprey present:
"Joy to the World" an annual free holiday concert for the community.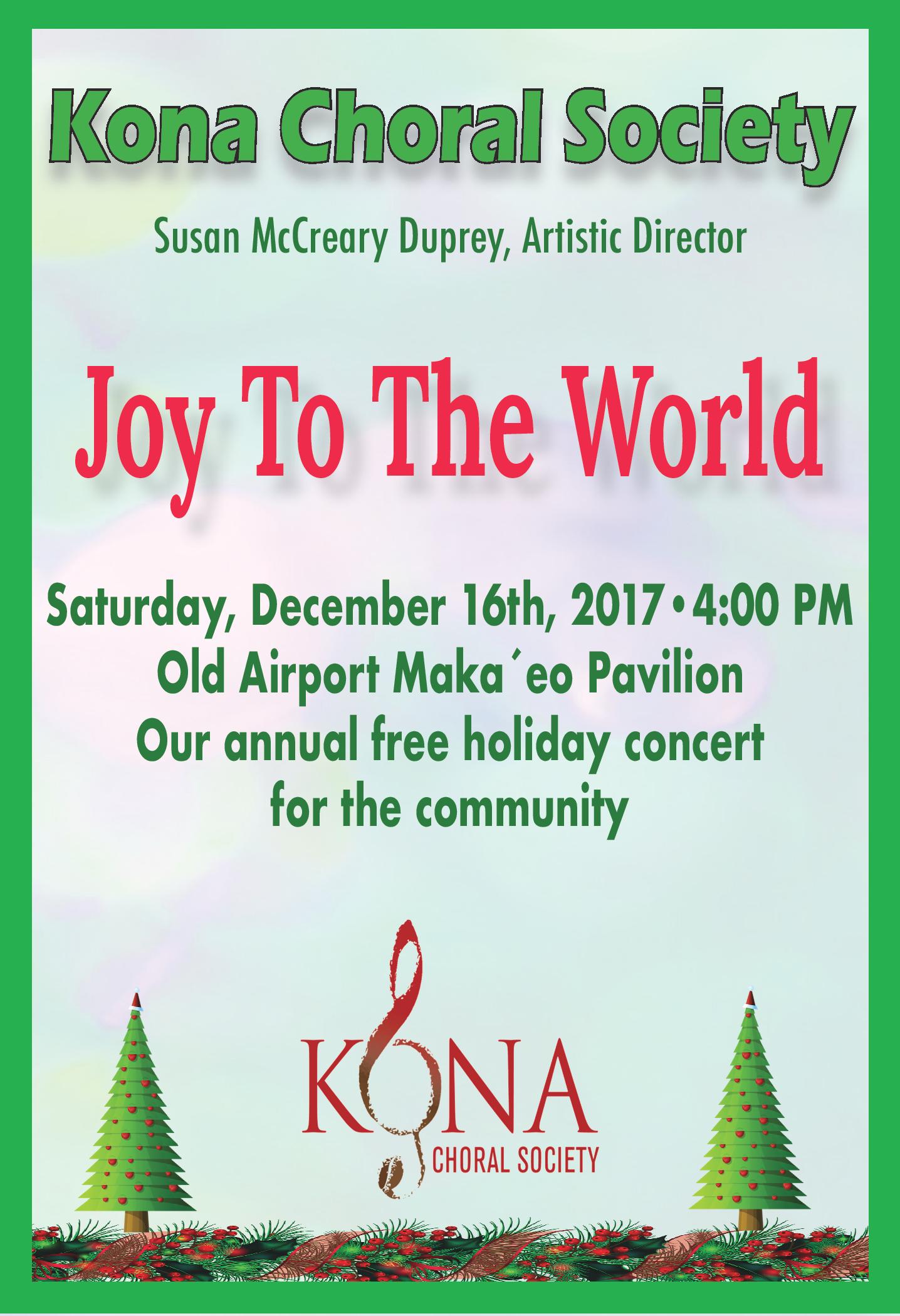 WHO: Kona Choral Society; Susan McCreary Duprey, Artistic Director
WHAT: "Joy to the World," annual FREE holiday concert for the community
The audience will also get to join in and sing along to a few familiar holiday tunes!
This concert is co-sponsored by the County of Hawai'i
WHERE: Old Kona Airport Makaʻeo Pavilion, Kailua-Kona
WHEN: Saturday, December 16 at 4:00-5:00pm
TICKETS: Not required!
Parking and concert are FREE and no tickets are required
A freewill offering to support the Kona Choral Society Youth Chorus program will be accepted
Come as you are and enjoy the free performance!
CONTACT: Susan Leonard konachoralsociety@gmail.com
♬♯♮♭♫♩♬♫♯♮♭♩♬♫♬♯♮♭♫♩♬♫♯♮♭♩♬♫♬♯♮♭♫♩♬♫♯♮♭♩♬♫♬♯♮♭♫♩♬♫♯♮♭♩♬♫♬♯♮♭♫♩♬♫♯♮♭♩♬♫

WHO WE ARE – Kona Choral Society: Bringing to the community choral music from masterworks to local traditions. The singers of KCS make up a rare blend of accomplished musicians and enthusiastic novices who make choral treasures come to life! The Kona Choral Society is a non-profit organization incorporated in the State of Hawai'i.