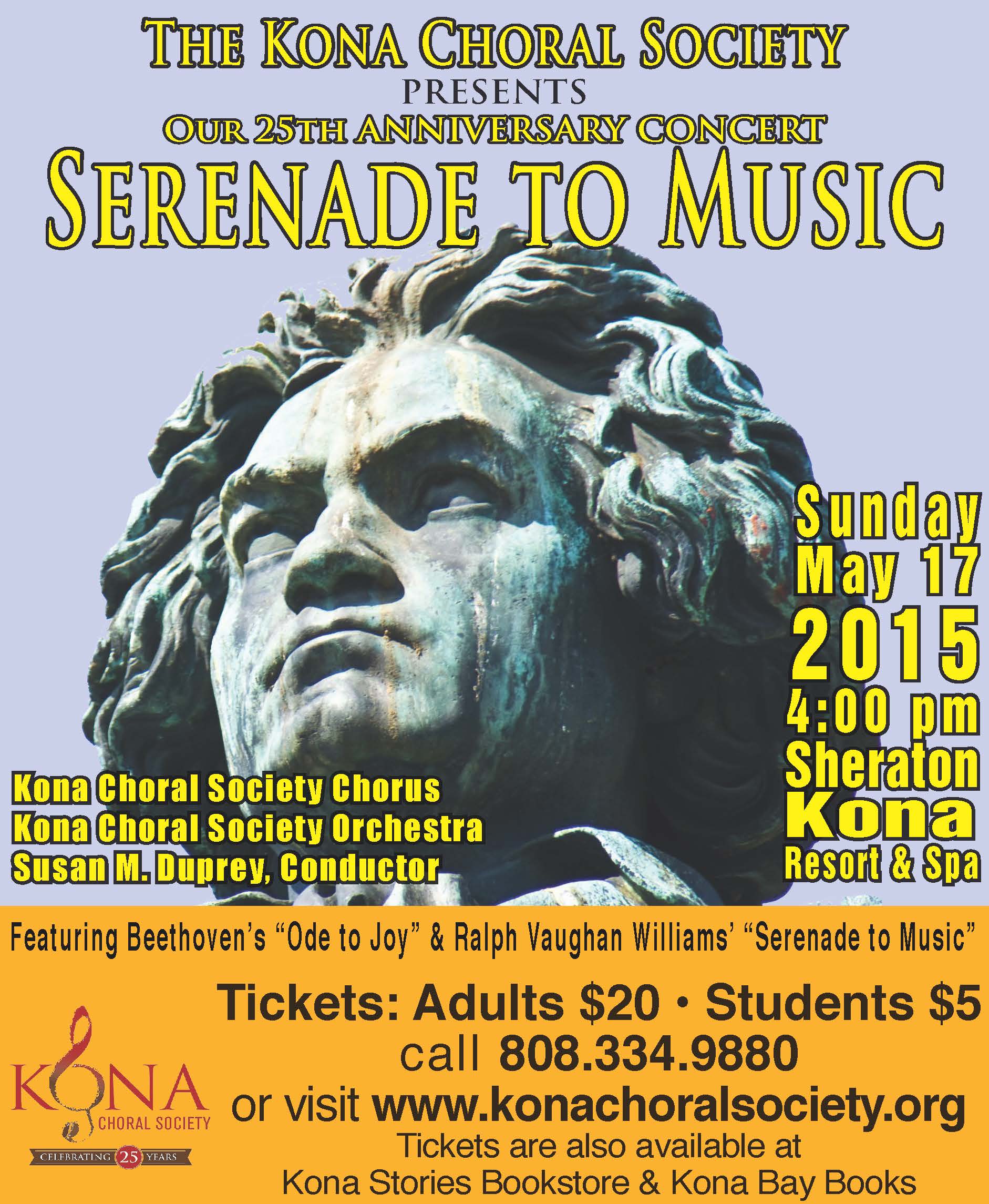 Astronomical—-a heavenly event for music lovers!   At 4 pm on Sunday, May 17th, at the Sheraton Kona Resort and Spa at Keauhou Bay (Kaleiopapa Ballroom), Kona music lovers can rejoice.  In honor of our 25th Anniversary, the Kona Choral Society under the baton of Artistic Director Susan McCreary Duprey offers a constellation of glorious music.  Beginning our remarkable program are four musical treasures, much loved yet new to Kona, which fittingly celebrate music.  The most celebratory is Ralph Vaughan Williams' (and Shakespeare's) "Serenade to Music," composed in 1938 for Sir Henry Wood's 50th anniversary as a conductor.  Then we offer three shorter songs.  These are more introspective, exploring what music can mean to me and you and us:  "How Can I Keep From Singing,"  "Riversong," and "I Am in Need of Music."
But wait!  There is more. In the second half of the program, the Kona Choral Society presents the renown fourth movement of Beethoven's Ninth Symphony in its setting of Schiller's "Ode to Joy."  This heart-stirring but demanding music requires all our 90 voices as well as one of Beethoven's (and our) largest orchestras and four starry soloists.  We are ready and we hope you are too for an exceptional concert.
The tickets are $20 for adults and $5 for students, for whom this concert may be particularly family friendly.  The KCS Children's Chorus, directed by Gloria Juan, will perform with the adult chorus for two songs and offer their musical Happy Anniversary in the courtyard of the Kaleiopapa Convention Center at 3:15 pm.  Hallelujah and Hail to Joy!